Ground transport is utilized when inclement weather prohibits patient transport by air, for ground shuttles with fixed wing transports, with certain pediatric or neonatal patients, or when considered appropriate by a requesting physician.
AIRLIFE Ground Transport is provided by the CCT (Critical Care Transport) ambulances. This service is provided 24 hours/ day for interfacility hospital transports and is staffed with two AIRLIFE Flight Nurses, or an AIRLIFE Flight Nurse and Paramedic, and an AIRLIFE EMT.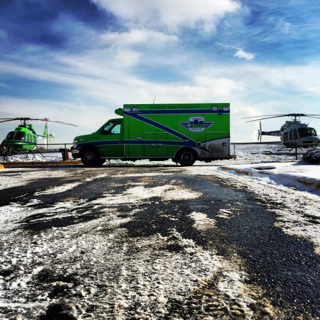 The CAMTS fully accredited CCT utilized by AIRLIFE is equipped as a fully functional critical care transport unit with all the necessary tools needed for advanced care including; full monitoring of EKG/ BP/ pulse oximetry/ invasive hemodynamic values, suction, ventilator with CO2 monitoring, defibrillation, and ACLS drugs.
Additionally, a self contained neonatal isolette is available for transports by the Neonatal Transport Team in our dedicated Rocky Mountain Hospital for Children Neonatal ambulance. The CCTs have the capability of transporting two adult sized patients simultaneously, with two secured prams. Capabilities include Critical Care Transport of patients ranging from high-risk obstetrics, neonatal and pediatrics to trauma, cardiac and IABP's.
The CCT itself is a custom-built Braun 2002 ambulance, designed with the latest technology. Everything, front and back, has been converted into digital readouts on LCD monitors and controlled by a central computer. There is also a digital tracking system with two-way text messaging installed in the vehicle so that it is never out of communication range. CCT ambulances utilized by AIRLIFE are provided by AMR Colorado.