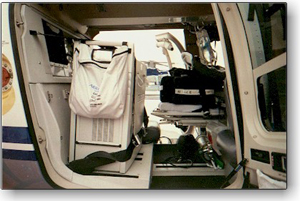 Expertise in transport of patients with cardiac assist devices
AirLife Denver has a team with specialty training in the area of Cardiac Assist Devices. Each member of this team has previous experience working with cardiac assist devices. There are numerous devices that are being used today including Intra-Aortic Balloon Pump (IABP), Impella, Heartmate or Heartware devices. Each of these devices are placed to assist the heart for a variety of reasons such as heart failure after a heart attack or failure of a heart valve. They assist the heart with forward blood flow when the heart is unable to maintain adequate flow on its own. This allows the patient to be supported until they can be transported to a facility that has a higher level of cardiac care.
AirLife Denver also is capable of transporting ECMO (Extracorporeal membrane oxygenation) patients when a perfusionist accompanies the team. ECMO is a treatment that uses a pump to circulate blood through an artificial lung back into the bloodstream. This system provides heart-lung bypass support outside of the body. AirLife Denver has a history of being able to care for these complex cardiac assist device patients and works hard to provide these patients with every opportunity to be transported to facilities that offer advanced cardiac care.