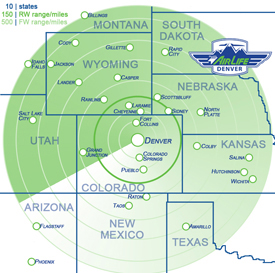 We serve Colorado and surrounding states. Helicopter transports achieve a 150-mile radius from our various bases, while fixed wing aircraft enable AirLife crews to transport up to 500-miles.
Air ambulance licensure is maintained in both Colorado and Wyoming, which are home to our operational and crew bases. With over 3,000 transports a year, AIRLIFE is one of the largest and busiest air medical programs in the region providing emergency air and ground transport 24 hours a day.
AIRLIFE Denver currently has operational bases throughout the greater Denver Colorado region at Swedish Medical Center in Englewood, Sky Ridge Medical Center in Lone Tree, Frederick-Firestone Fire Station in Frederick, Lincoln Community Hospital in Hugo, Medical Center of Aurora-North and at the Cheyenne Medical Center in Cheyenne Wyoming and Medical Center of Aurora-North.
Base - Rotor
Sky Ridge Base
Hugo Base
Frederick-Firestone Base
Cheyenne, WY Base
Wing
Base - Wing
Bases - CCT
Administration/Communication Center